'ŌLELO 'ŌIWI: HAWAIIAN LANGUAGE FUNDAMENTALS
Revised Edition
By Hōkūlani Cleeland
'Ōlelo ʻŌiwi: Hawaiian Language Fundamentals is a clear and easy-to-use text for beginning Hawaiian language learners as well as for more advanced students who wish to review—or even expand—their knowledge of basic fundamentals. Grammatical structures are thoroughly explained in nontechnical language with simple elements taught first and then used as building blocks to facilitate mastery of more difficult patterns. Vocabulary and practice activities relate to practical everyday situations.
Each chapter also includes information on proper pronunciation and cultural usage of the language, enabling the learner to acquire a deeper appreciation of the intricacies and uniqueness of Hawaiian, the living native language of our island home.
Drafts of the text were extensively tested in both high school and community college classes before first publication in 1994. This new edition, which has been completely reformatted and updated, also includes additional information about language usage, especially as heard among native speakers on Kauaʻi and Niʻihau.
ʻŌlelo ʻŌiwi was originally envisioned as a high school textbook, so the general perspective of practice exercises tends toward relevance to teenagers. Subsequent use of the text in community college, university, adult education, and even hālau hula and kūpuna classes, however, has shown it to be an effective means for learning Hawaiian in a variety of venues, including self instruction.
Hōkūlani Cleeland currently serves as secondary teacher, language consultant, editor in chief for curriculum materials, and governing board member at Ke Kula Niʻihau O Kekaha Learning Center, a public charger shcool located on Kauaʻi whose primary mission is to help perpetuate the Niʻihau dialect of the Hawaiian language. He is also a registered court interpreter for Niʻihau Hawaiian.
As one of the founders of ʻAha Pūnana Leo, Cleeland first began serving the Niʻihau community in 1983 and has been with the present program educating Niʻihau youth since 1995. Prior to that, he spent many years as a full-time teacher at Kauaʻi High School and as a part-time lecturer in Hawaiian language at Kauaʻi Community College. As a member of Kōmike Huaʻōlelo, the Hawaiian Lexicon Committee, he was lead editor for Māmaka Kaiao: A Modern Hawaiian Vocabulary.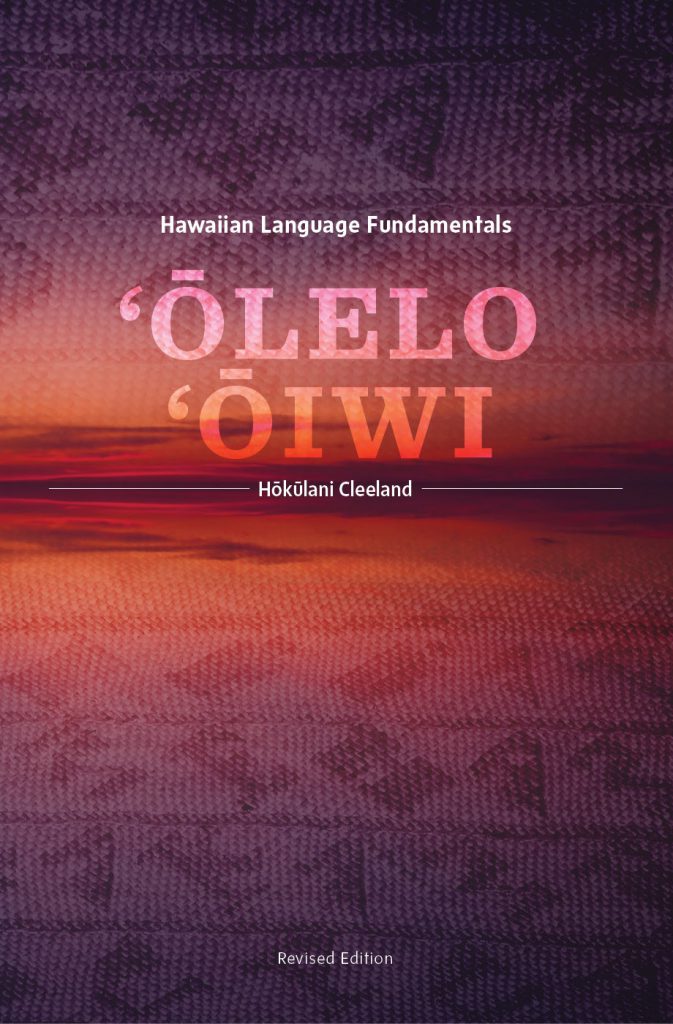 It is hoped that using 'Ōlelo 'Ōiwi will help to provide a firm foundation for everyone who has chosen to embark upon the journey of learning Hawaiian, and that this foundation will enable each of us to follow our own individual path toward becoming speakers of Hawaiian who are both willing and able to bear the Hawaiian language into the future for succeeding generations while maintaining sensitivity to our heritage from the past.
The foundation first, and then the building.