Established in 1888 as Kamehameha School Press, today's twenty-first-century Kamehameha Publishing carries on a rich and robust tradition that enabled the near fully literate nineteenth-century Hawaiian Kingdom to produce one of the largest archives of Native writings in the world.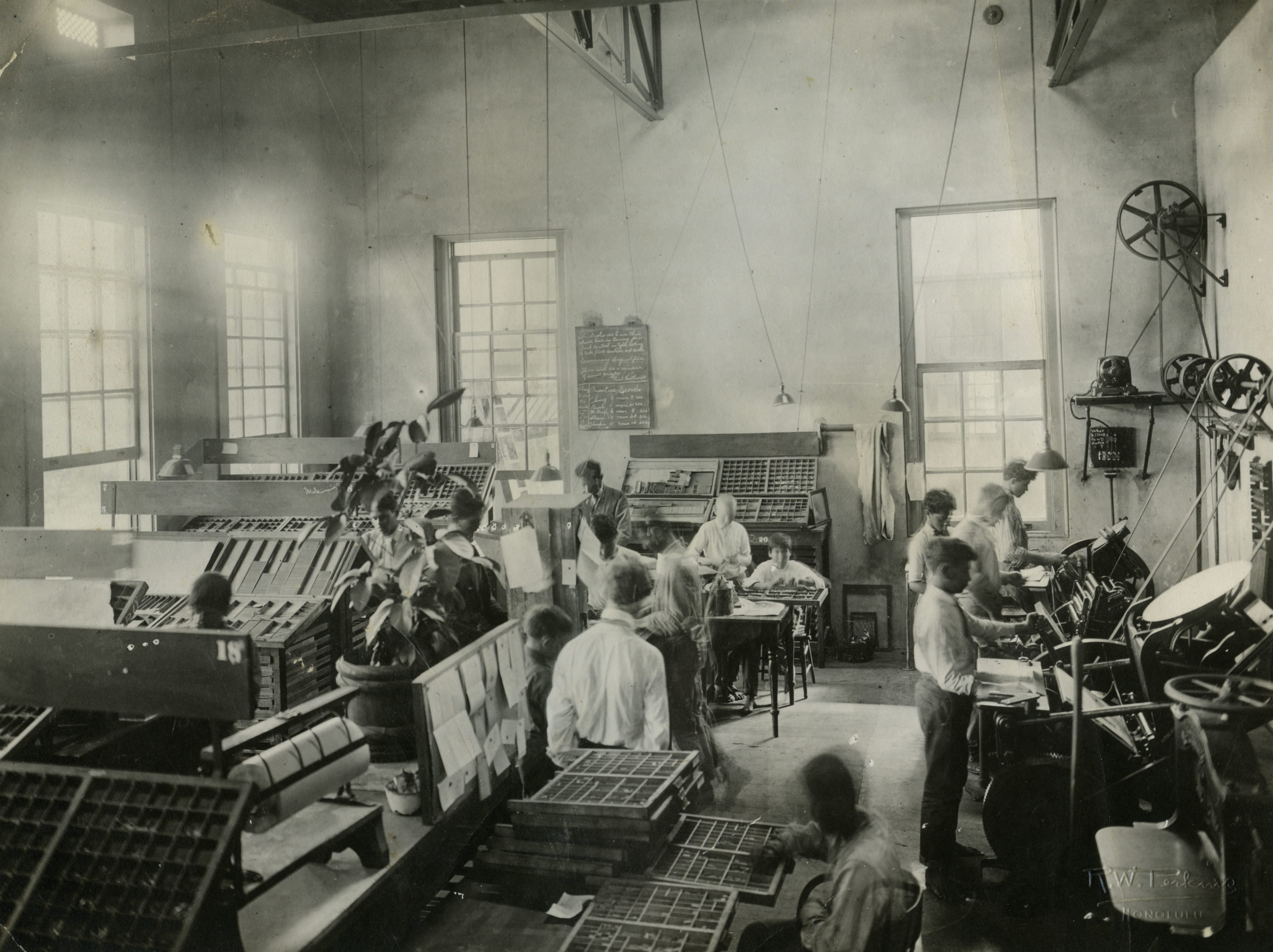 Kamehameha Publishing continues to support the schools' mission by publishing and distributing Hawaiian language, culture, and community-based materials that engage learners as well as reinforce and invigorate Hawaiian cultural vitality.
Publishing has a rich history in Hawaiʻi. The introduction of literacy to the Islands in the 1820s fueled a passionate production and consumption of written knowledge by Kānaka ʻŌiwi (Native Hawaiians) that helped propel the Hawaiian Kingdom to a place among the most literate nations in the world at the time, a legacy that continued for several decades. "In just over a century, from 1834 to 1948, Hawaiian writers filled 125,000 pages in nearly 100 different newspapers with their writings."1
Kānaka ʻŌiwi were at the center of the publishing process as the press rooms of Honolulu were filled with Native typesetters, binders, editors, and publishers. On New Year's Day 1862, the Native-language Ka Nupepa Kuokoa celebrated a worldwide publishing first—the earliest printing of a color flag in a newspaper.2 The noble red, blue, and white hae Hawaiʻi (Hawaiian flag) stamped near the top of that day's front page simultaneously achieved the distinction of being printed a full three decades prior to the use of color in any American newspaper. An accompanying article pointed out that it was their Native pressmen who had made this feat possible. 
Ua oluolu a hauoli hoi makou i ka Hae Hawaii i paiia maluna, a e oluolu ana no hoi paha ka poe lawe i ka Nupepa Kuokoa i ka nana ana.… 

He mea hou ke pai ana i ka Hae ma na Nupepa, me ka hoike pu i ka wai hooluu. He mea i hana oleia maanei i ka wa mamua'ku, a pela no ma kekahi mau aina haole. E ninau paha auanei na makamaka i ka poe nana i hana? He poe Hawaii nei ka poe nana i hana, he kamaaina o keia Pae Aina, a ua aoia e hana i keia mea ma ko makou Hale Paipalapala.3

We are much pleased with the beautiful flag printed above, and all our readers will also be pleased in seeing it….

This is a new idea to print a flag in colors in a newspaper. It is something that has never been done here before, or in foreign countries. But our friends will ask who has done it? The work has been wholly executed by Hawaiians, native-born, who have learned their trade in our printing-office.4
The Kamehameha School for Boys opened in 1887 as a manual training school with printing classes as one of its strategic offerings. The decision to include printing was both a natural and pragmatic one; nineteen different newspapers were in operation that year, and a young, well-trained Kanaka ʻŌiwi could confidently expect a job at one of several publishing houses on Printers' Row in downtown Honolulu. The young men newly enrolled in printing classes at Kamehameha were taught "correct spacing, accurate justification, proof-reading, correcting the metal and distributing." Later courses gave attention to "ornamental type-setting, such as advertisements, programmes, etc."5 The students received a comprehensive education in the field of publishing that included a general survey of the printing industry, its invention and history, as well as the classification of products: newspapers, books and magazines, and church, school, and commercial printing. Field trips to visit the significant printing establishments of Honolulu acquainted the pupils with the various printing trades in their natural setting. Back on campus, nā haumāna (the students) also learned how to plan and execute a project, how to sell advertising, and the skills of billing and bookkeeping.
Founding Principal Rev. William Brewster Oleson launched Kamehameha School Press in 1888, only the second year of the school's operation. The press printed school announcements, policies and handbooks, and educational materials for use within the institution. A series of educational tracts was also begun, starting with the February 1888 publication, "The Educational Value of Manual Training," and including the 1891 Founder's Day address given by the United States Minister to the Hawaiian Kingdom, John Leavitt Stevens.6
In 1889, the Kamehameha School for Boys began publishing a newspaper, Handicraft, with the writing, editing, and printing done wholly by students. The publication team explained in its inaugural issue: 
As a convenient medium of communication with the friends and patrons of Kamehameha School, it is believed that Handicraft will receive a cordial welcome. It will be our aim to foster the interest of the public in our school, and to keep prominent the subject of manual training. We shall make this emphatically a Kamehameha journal. While taking note of all educational matters in our little Kingdom, we shall specifically aim to serve the interests of this school, and to promote its growth and development.7
The student publication was quickly noted outside the campus. Ka Nupepa Kuokoa reported, "Ua puka ae ka nupepa mahina hou na na haumana o ke Kula Kamehameha, a he mau lawelawe o ka mikioi a me ka nani ma kona mau helehelena"8 (A new monthly newspaper has been published by the students of Kamehameha School, and care and excellent craftsmanship show in all the beautiful work). 
A significant expansion of the mission of the Kamehameha Schools Press came with the 1926 publication of A First Course in the Hawaiian Language by Frank E. Midkiff, president of The Kamehameha Schools, and John H. Wise, professor of Hawaiian language.9 This school text was part of an effort to revive the study and use of the ʻōlelo makuahine (mother tongue) of the Islands, spearheaded by the school's president. Midkiff wrote concerning the publication, "This is one of a series of educational publications of The Kamehameha Schools showing our ventures in Modern and progressive education. It is hoped that this Text will prove of considerable help in the rapidly growing field of Hawaiian language study."10
In the early 1930s, Kamehameha Schools hosted a series of twenty lectures for the schools' senior class given by cultural and academic experts in a wide range of fields, all under the theme of "ancient Hawaiʻi." The presentations were delivered by such luminaries as Te Rangi Hīroa (Sir Peter Buck), Kenneth Emory, E. S. Craighill Handy, and John Henry Wise. In 1933, the lectures were compiled, edited, and published by Kamehameha Schools Press under the title Ancient Hawaiian Civilization.
The 1940s and '50s brought a significant publishing relationship between the press and the Hawaiian cultural and language expert Mrs. Mary Kawena Pukui. While working at the Bernice Pauahi Bishop Museum, Mrs. Pukui suggested several moʻolelo Hawaiʻi (Hawaiian legends, tales, histories) and other songs, games, and traditional adages that might be published in order to bring this ʻike (wisdom) of the past to new generations of haumāna ʻŌiwi. Partnering with writer Caroline Curtis, the two produced Pīkoi and Other Legends of the Island of Hawaiʻi for Kamehameha Press in 1949. In 1951, The Water of Kāne and Other Legends of the Hawaiian Islands was published, and in 1960, Tales of the Menehune.
In 1958, Kamehameha Schools Press published biographies of aliʻi and the institution's founders, Bernice Pauahi Bishop and her husband, Charles Reed Bishop. Pauahi, the noble daughter of Abner Pākī and Laura Konia Pākī, was a woman of great intelligence and care who had been a passionate student, well acquainted with the power of an excellent education. As a major descendent of the Kamehameha line, Pauahi was heir to vast tracts of land, most significantly the lands bequeathed to her by her royal cousin Ruta Keʻelikōlani. Having the foresight to recognize how to address what would be one of the greatest needs of her people, Pauahi ordered that her estate was to be formed into a trust that would found the Kamehameha Schools. Pauahi's husband, Charles Reed Bishop, served as founding president of the Bernice Pauahi Bishop Estate's board of trustees while also donating both funds and property from his own holdings to support the Kamehameha Schools mission.   
Charles Reed Bishop: Man of Hawaiʻi was an original 1958 production while Memoirs of the Honorable Bernice Pauahi Bishop was republished—having been originally released by Knickerbocker Press of New York in 1908. A photo book, An Album of Likenesses: Princess Bernice Pauahi Bishop, was published in 1962. Further biographical texts came in 1965 with Princess Pauahi Bishop and Her Legacy and the 1972 publication C. R. Bishop Letter File. A 1966 publication, Builders of Hawaiʻi, expanded the biographical work to include prominent business and government leaders of Hawaiʻi.
In 1961, Kamehameha Schools Press released what would become one of its most significant publications to date: Ruling Chiefs of Hawaiʻi—a translation of the 19th-century newspaper series authored by Samuel Mānaiakalani Kamakau that ran from 1866–71. The text, provided by the Bernice Pauahi Bishop Museum, was translated by a committee of esteemed scholars, including Mary Kawena Pukui, Thomas G. Thrum, Lahilahi Webb, Emma Davidson Taylor, and John Henry Wise. This important record of Hawaiʻi's ancient past, authored by a Native historian of the 19th century and made available to a wide audience, became one of the canonical texts in the field of Hawaiian history. Kamehameha Schools Press continued, in this era, to publish resource units, maps, songsheets, and other materials for Kamehameha Schools' classrooms, including E Pāpā ʻŌlelo Kākou (1965) and Life in Old Hawaiʻi (1970).
In 1972, Kamehameha Schools Press began publishing a magazine that documented involvement in the schools' popular community education program that had begun four years prior, Explorations. The publication of the same name took readers along on a journey across the Islands and offered a peek at the culture-based adventures that ʻŌiwi students were experiencing through this summer program. In 1975, the press published Hawaiian Games for Today: Descriptions of Sixty Hawaiian Games with Full Directions for Playing Thirty, a manual by Donald D. Kilolani Mitchell. Publications by the press in the 1980s included a second biography of the schools' founder titled Pauahi: The Kamehameha Legacy and authored by George Huʻeu Sanford Kanahele along with the press' first lunar calendar, compiled by Nelson Foster.
The 1990s saw an increase in publications from the press. One prominent example was the biographical series of texts that covered all eight of the sovereign rulers of the Hawaiian Kingdom. Titled the Aliʻi Series, this set of sixteen books—each published in both 'ōlelo Hawaiʻi and ʻōlelo Beretānia (English)—was launched in 1993 with Liliʻuokalani and completed in 2005 with the publication of ʻO Kāwika Kalākaua. A journal of Hawaiian-language resources titled Ka Hoʻoilina (The Legacy) was launched in 1995.
The new century brought major changes to the press. The then-president of Kamehameha Schools, Michael Chun, led efforts to develop a strategic plan that focused on serving more Kanaka ʻŌiwi and producing more scholarly publications, setting the stage for an expanded role of the press. In 2008, the press adopted a new name, Kamehameha Publishing, and a new mantra: Amplifying Hawaiian Perspectives. This mantra reflects not only an expansion of published works by Kānaka Maoli, but also a greater expectation for publishing to contribute to the larger Hawaiian community.
Archival recovery and new works in translation
Kamehameha Schools places a high value on major works of translation, such as Kamehameha and His Warrior Kekūhaupiʻo by Rev. Stephen Langhern Desha in 2000 and Ke Aupuni Mōʻī by Samuel Mānaiakalani Kamakau in 2004. 
Other works allow ʻike from rich literary traditions to be more accessible to a wider audience eager for ancestral wisdom. Hānau ka Ua: Hawaiian Rain Names, the fullest record of Hawaiian rain names and their lore to date, is one of Kamehameha Publishing's most popular and well-loved works. The book is used by academics, musicians, hula practitioners, and storytellers. As the number of trained ʻōlelo Hawaiʻi speakers and translators multiplies, our culturally foundational materials will continue to resurface and proliferate.
Kanaka ʻŌiwi scholarly works
Along with the resurgence of ʻōlelo Hawaiʻi speakers and cultural practitioners came a renaissance of the ʻike Hawaiʻi scholar. To elevate this emerging scholarship, the peer-reviewed journal Hūlili: Multidisciplinary Research on Hawaiian Well-Being was launched in 2004 to give a "forum for current research that examines the nature, needs, and strengths of Kānaka Maoli and Native Hawaiian communities." A broad focus on Hawaiian well-being across disciplines encourages Kanaka scholars to discuss their work within a cultural context, making the academic journal relevant in Hawaiʻi and beyond. 
Similar pursuits include collaborative scholarly works that have a decades-long tradition of building capacity in the lāhui. In 2015, Kamehameha Publishing partnered with the Native Hawaiian Legal Corporation and the University of Hawaiʻi William S. Richardson School of Law to produce Native Hawaiian Law: A Treatise. This revised and enlarged edition serves as a definitive resource for understanding critical legal issues affecting Native Hawaiians. Kamehameha Publishing also supports population-level research such as Ka Huakaʻi: Native Hawaiian Educational Assessment—an example of ʻŌiwi scholarship that has been tracking trends, challenges, and successes of Kanaka Maoli well-being since its first publication in 1983.  These works illustrate collective approaches and academic venues to magnify Native Hawaiian priorities. 
Community partnerships
At the community level, Kamehameha Publishing actively seeks collaborations that draw on the skills of kumu and haumāna to produce relevant and engaging materials. From the bilingual Ke Kiʻowai ʻo Honokawailani (Honokawailani Pond), which was written and illustrated by haumāna of Ke Kula Kaiapuni ʻo Waiau, to He Kaʻao no Hauwahine lāua ʻo Meheanu (A Tale of Hauwahine and Meheanu) by the haumāna and kumu of Ke Kula ʻo Samuel M. Kamakau, Kamehameha Publishing is helping our youngest authors and illustrators tell their stories to the world and model class projects that benefit the community. Other bilingual books, such as Nā Keiki ʻElima and No ka ʻElepaio Kolohe, are the result of collaborations with ʻAha Pūnana Leo—which has led efforts to revitalize ʻōlelo Hawaiʻi through immersion preschools since the 1980s—and kumu at Ka Haka ʻUla O Keʻelikōlani College of Hawaiian Language at UH–Hilo.
In addition, Kamehameha Publishing partners with community contributors such as Hiʻohia Publishing to print and distribute a range of creative works that help to uplift and develop the ʻŌiwi creative community as a whole.
Creative writing
As important as it is to learn from those who have gone before, it is also vital to know the struggles and triumphs of Native Hawaiians today. In 2008, Kamehameha Publishing released the award-winning novel by Lurline Wailana McGregor, Between the Deep Blue Sea and Me. New, longer-format works of literature and theatre are continually under development to explore identity and the evolving definition of what it means to be Native Hawaiian in today's world. 
Kula resources
In 2018, Kamehameha Publishing released Pāhana ʻĀina Lupalupa, a series of Hawaiian culture-based science readers—in both ʻōlelo Hawaiʻi and English—that fill a void in materials that are relatable to the haumāna of Hawaiʻi nei. These educational resources incorporate Kanaka ʻŌiwi environments, ecosystems, and living creatures to teach both science and reading. Importantly, Kamehameha Publishing partnered with the Hale Kuamoʻo Hawaiian Language Center at UH–Hilo and with kula kaiapuni—the K–12 Hawaiian-language immersion schools—to develop the readers in 'ōlelo Hawaiʻi before translating the books into ʻōlelo Beretānia. 
The website "Kumukahi: Living Hawaiian Culture" brings new life and relevance to the Hawaiian studies curriculum for Hawaiʻi's fourth-graders and beyond. These online resources provide engaging and informative video interviews with cultural practitioners from across Ka Pae ʻĀina (the Hawaiian Archipelago), making connections between where we live and our moʻolelo (stories). 
New storytelling platforms     
Kamehameha Publishing is engaging new platforms and technologies that offer ever-expanding reach and educational opportunities. The web-based "Ke Ala o ka Mahina" is a popular app that gives daily guidance on farming, fishing, and planning based on the Hawaiian lunar calendar. Audio books, podcasts, and new games are in the works.
Today's Kamehameha Publishing continues to amplify Hawaiian perspectives, expanding a publishing legacy that honors the foundation of Kanaka Maoli pasts and illuminates the promise of ʻŌiwi futures.
---
M. Puakea Nogelmeier,

Mai Paʻa i ka Leo

, ʻaoʻao xii.

 The first use of color in a US newspaper was on 5 January 1891 when the

Milwaukee Journal

printed red and blue stripes across its front page to celebrate the inauguration of a new governor.


 "Ka Hae Hawaii,"

Ka Nupepa Kuokoa

, 1 Ianuari 1862, ʻaoʻao 1. 

 "The Hawaiian Flag,"

Ka Nupepa Kuokoa

, 1 Ianuari 1862, ʻaoʻao 1. This entry is not a complete, literal translation but is a near-identical English-language column placed within the Hawaiian-language newspaper. 

 

Handicraft

, January 1889, page 1.

 

Handicraft

, January 1892, page 1. 

 Handicraft

, January 1889, page 1. 

 

Ka Nupepea Kuokoa

, 19 Ianuari 1889, ʻaoʻao 3.  

 Frank E. Midkiff and John H. Wise,

A First Course in the Hawaiian Language

(Honolulu: Kamehameha Schools Press, 1926.

 Frank E. Midkiff,

A First Course in the Hawaiian Language, 1926

, "Preface."