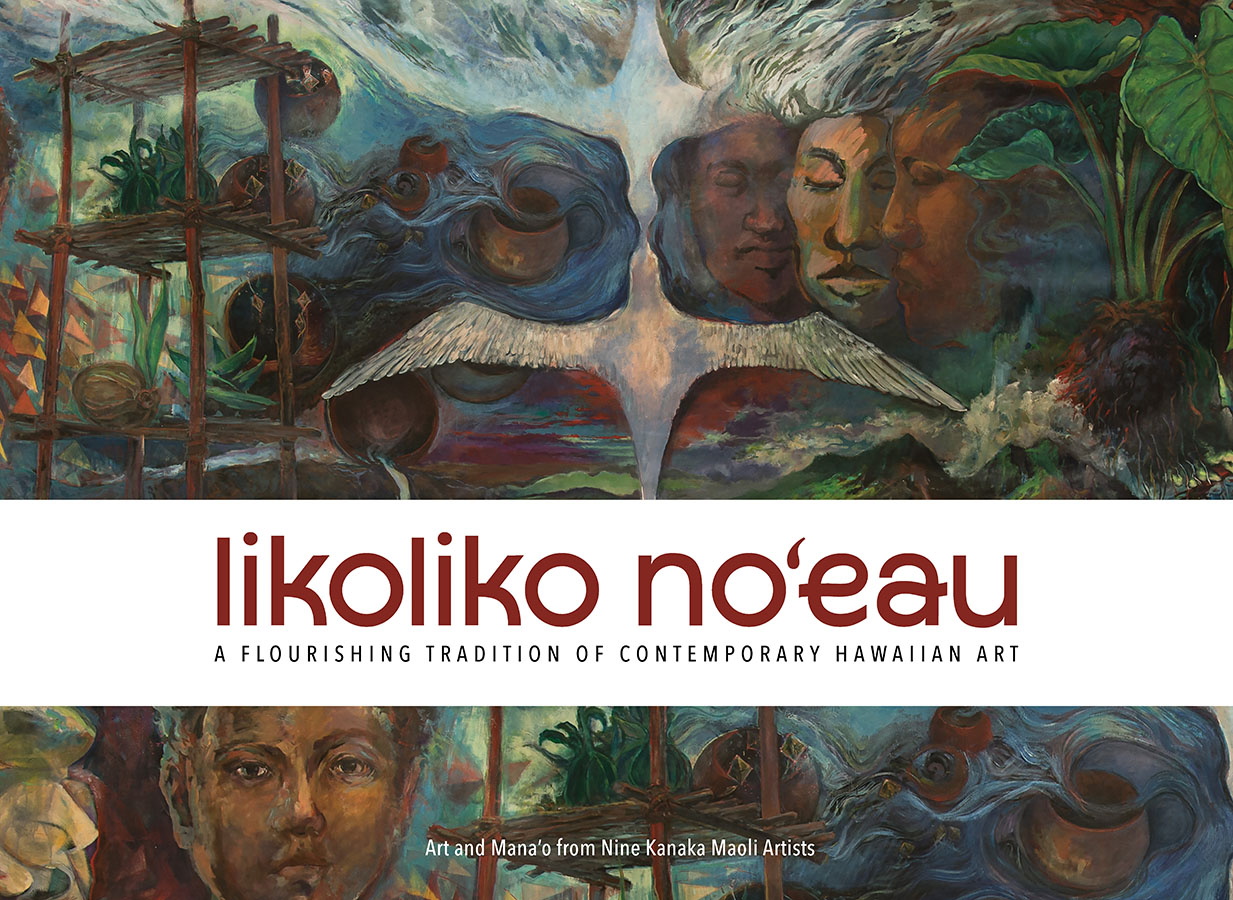 One of the most compelling ways to bring Hawaiian worldviews and values into a space is through the art spotlighted on its walls. Likoliko Noʻeau: A Flourishing Tradition of Contemporary Hawaiian Art features the work of nine established Native Hawaiian artists in a first-of-its-kind art print collection. These sixteen images capture the beauty and complexity of the modern Hawaiian experience. Biographical information for each artist is also shared, along with insights into their background, purpose, and process.
The artfolio is designed to make Native Hawaiian art more accessible to a wider audience in settings such as schools, homes, community centers, and places of work. This collection highlights work by Solomon Robert Nui Enos, Roen Hufford, Imaikalani Kalahele, Al Lagunero, Marie McDonald, Meleanna Aluli Meyer, Harinani Kalohelani Orme, Carl Franklin Kaʻailāʻau Pao, and Abigail Romanchak.
THE COMPLETE ARTFOLIO SET
All 16 art prints  •  Booklet featuring art and mana'o from nine featured artists




Beautifully designed storage sleeve with magnetic closure
• All 16 art prints
• Booklet featuring art and mana'o from nine featured artists


• Beautifully designed storage sleeve with magnetic closure
Likoliko Noʻeau showcases and honors current artists and encourages the further blossoming of a vibrant Native Hawaiian a

r

t culture.
SOLOMON ROBERT NUI ENOS was born and raised in Mākaha Valley on Oʻahu, Hawaiʻi. He is part of a family that for many years has been dedicated to contributing art, cultural practice, health care, ʻāina-based education, and economic development to the Mākaha community. Enos is a father of four children and credits his family—past, present, and future—as the source of his artistic inspiration and drive.
Largely self-taught, Enos has been making art for more than thirty years. He is accomplished in oil painting, book illustration, mural creation, and mixed-media sculpture. A self-described "intelligent optimist," Enos creates art that expresses his vision of the world at its best. This has led to the creation of Polyfantastica, a Polynesian-centric science fiction "paraverse" that touches on themes of ancestry and identity, the human relationship with the earth, and the future of Hawaiʻi, its people, and its resources.
Enos is a voracious consumer of knowledge. He listens to audiobooks and local and global news all day while working—a practice that feeds his imagination, keeps his ideas fresh, and informs his artistic themes and approaches.
ARTIST STATEMENT: My work is grounded in Hawaiian culture while at the same time building on conversations and ideas that are universal. I pursue local and global themes as part of a bigger effort to help us understand what it means to be human. One particular focus is understanding the nature of consciousness. We are challenged as a species with ideas like violence, warfare, and suffering—which seem insurmountable. And yet, we have so many technological advances that were thought impossible even a few years ago. I want to map other possible realities that bring them into a state of pragmatism. A lot of my work is presented as allegories that show hopeful futures, both for the earth and for the universe.
ROEN HUFFORD
ROEN HUFFORD was born on Molokaʻi in 1950 and raised on Oʻahu. She graduated from Castle High School in 1968, attended the Pratt Institute in Brooklyn, and received a bachelor of fine arts degree from the University of Hawaiʻi at Mānoa in 1973. She worked for the City and County of Honolulu and the Department of Parks and Recreation. She and her husband, Ken, moved to Waimea in 1990 and built their own home on her parents' farm. There, Hufford grows flowers and vegetables, makes lei, and beats kapa. She is a lifelong student of her mother, Marie McDonald, acquiring knowledge and skill by being her mother's kōkua.
Hufford's work not only honors her mother's legacy, with its deep connections to ʻike Hawaiʻi and Moku o Keawe, but also shows her own growing talents. Being haumana and alakaʻi to one's mother is not an easy task, but are of immeasurable value if one is to continue the legacy of one's parent. This continuation is often witnessed in hālau hula, and it is important to honor when it occurs in visual arts as well.
She organized a group of kapa makers and students on Hawaiʻi Island to exhibit their work at Hānauna Kapa in 2019 at the Kahilu Theatre in Waimea, continuing to share as her mother did. Her work can be found in private collections or at the Gallery of Great Things in Waimea.
ARTIST STATEMENT: I am fortunate to have been the student and kōkua of my mother, Marie McDonald, an acknowledged and respected art educator, lei maker, and kapa artist. What I learned at university complemented what experience I already had following her around and being a part of her own explorations and projects. Learning about plants and how they can be useful—to eat, to wear, to appreciate for their innate beauty—was an enjoyable part of growing up under my mother's wing. What I know about kapa comes from her, from sharing with other contemporary kapa makers, and from the raw materials that go into kapa making. I am challenged by the material and the ways to manipulate it. Growing my own resources, regularly beating the wauke, making keen observations, following the example set by my mother yet having her permission to set my own limits—these are all part of my artistic journey.
IMAI KALAHELE is an artist, poet, actor, and musician whose work is rooted in place—his beloved Hawaiʻi.
Kalahele was born on Fort Street in Honolulu and grew up in the area behind and around the Queen's Medical Center. Although mostly self-taught, Kalahele was a student of Louis Pohl, an instructor at the Honolulu Academy of Arts in the 1960s. He also learned from Minnie Fujita and Charlie Higa while attending McKinley High School.
Kalahele's assertion of being a Hawaiian artist originated in 1975 with the founding of Hale Nauā III, Society of Maoli Arts, under Rocky Jensen. According to Kalahele, "It was the first organization made up of artists who made it a point to say, 'We are Hawaiian.' We used our Hawaiian names. It was important to take hold of our identities and what we were doing as Hawaiians."
A well-known activist and aloha ʻāina, for thirty-three years Kalahele curated an annual art exhibition and poetry reading at the Queen Liliʻuokalani Children's Center on Hālona Street in Honolulu, where many artists and writers took part in commemorating Liliʻuokalani's birthday. He has also been published in numerous anthologies and has shown in exhibitions spanning several decades. 
Kalahele often combines ancestral and traditional moʻolelo with modern influences and current events. His work addresses pressing issues related to Hawaiian culture, history, equity, and the illegal occupation of Hawaiʻi by the United States.
A sometimes polarizing figure in the Hawaiian community, Kalahele stands firmly with a lifetime of work that bears witness to the specific challenges of Hawaiian identity, alienation, dispossession, exploitation of land, and decolonization. His tools are strong design and moʻolelo senses, along with a keen understanding of Hawaiʻi's history.
Kalahele has inspired not only other artists, but also entire exhibitions. The theme for the 2019 Honolulu Biennial, To Make Wrong / Right / Now, came from one of Kalahele's poems, thus mobilizing the next generation of artists and aloha ʻāina, both in Hawaiʻi and internationally.
ARTIST STATEMENT: Art is just another voice, another way to communicate. I have something to say, so I say it. We as Hawaiians used to suffer from a stifled voice, but not so much anymore.
AL LAGUNERO has had a variety of teachers throughout his life, in both formal education (Arizona State University and the San Francisco Art Institute) and in informal settings. He also credits his family—including generations of ancestors and the spirits of the seas and islands themselves—as his teachers. Their constant spiritual presence has provided a lifetime of learning and mentorship. "They instill awe and inquiry, which lead me to an inner winding road that's not shiny," he says. "And with that, I stand ready to paint."
He was born at Pāwaʻa, Helumoa, on Oʻahu, and many traditional practices and processes have melded their way onto Lagunero's canvases. His great-grandmother Kaʻahaʻainaakahaku Naihe was a storyteller, and wax cylinder recordings of her stories can be found at the Library of Congress in Washington, DC. His blind grandfather led a hui of ʻōpelu fishermen from Keauhou Bay along the coast of Kona to Māhukona. His grandmother was a lau hala weaver. Lagunero's mother taught him to relate to family geographically in respecting the old ways: traditional stops were made at Kīlauea and Halemaʻumaʻu, Puʻuhonua o Hōnaunau, and at the two heiau at Puʻukoholā. She also taught her children to gather plant medicines. Family lands grew taro and banana, and the oceans provided fish and seaweed.
Lagunero enrolled in life-drawing classes at the University of Hawaiʻi at Mānoa when he was fourteen at the urging of Professor Claire Loring. He and his cousins had been playing on Kālia beach one evening, as a means of hearing the music from the then-new Tapa Room at the Hawaiian Village Hotel. Loring spotted the impressive sand sculptures Lagunero had made and encouraged him to seek formal arts training. 
In addition to art, Lagunero practiced hula, was involved in Hawaiian activism, owned an art gallery in Lahaina, traveled the world on a spiritual and artistic journey, and served for twenty years on the Olowalu Cultural Reserve.
David McCreight, his spouse, passed away in 2017 after thirty-seven years together. Lagunero has two daughters, Kaʻiʻini and Raʻiatea, with his first spouse, Robin Coleman Lagunero.
ARTIST STATEMENT: Any artist's statement is, by nature, a collective rather than an individual expression and has to be expressed as "kākou." In large part, the kāhea made by Hale Nauā III and its mission has been answered—the movement has grown in many directions culturally. I hope the resulting artwork inspires memory, which I believe is the gift of immortality.
MARIE MCDONALD
MARIE MCDONALD was born on Oʻahu in 1926 into a large family. She was the fifth in a family of ten children. Raised on Molokaʻi and educated at Kamehameha Schools, she earned her bachelor of arts degree in art education from Texas Women's University. She was employed by the City and County of Honolulu, Department of Parks and Recreation, for twenty-three years, and after her family relocated from Kāneʻohe to Waimea, Hawaiʻi, in 1973, she taught at Kohala High School and started a flower farm, Honopua.
Naturally inquisitive, she explored many different media, including watercolor and oil painting, linoleum block printing, batik, and Hawaiian quilting. However, McDonald is best known for her groundbreaking work in lei and kapa making. In the 1940s, soon after graduating from college, she started researching lei and kapa, and spent many years working on kapa and natural dyes. She was the driving force behind the 2011 Merrie Monarch collaboration with Hālau O Kekuhi, when the dancers wore kapa garments—a first for the Merrie Monarch stage.
Her work has been shown at the Honolulu Museum of Art and the Bishop Museum. She taught countless workshops and classes and generously shared her knowledge and expertise.
She was an inspiration to many younger artists who had the privilege of hearing her ʻike and experiencing firsthand her hana noʻeau. She was deeply thoughtful and aware that what she learned and knew from the "doing" of many things afforded her a rich cultural and creative ground from which she could confidently build. She was passionate about art, education, and horticulture, and spent her twilight years reading to and enjoying her moʻopuna. Marie McDonald passed at age ninety-two, in August 2019, and was and will remain a trailblazer in contemporary Hawaiian fiber arts.
ARTIST STATEMENT: "I read the story of ʻUmi and His Royal Necklace and as if it were the first dawn of all times, I realized that something had been totally lacking in my education. I knew the tales of Hans Christian Andersen. I had read the Anglo-Saxon epic of Beowulf. I studied the effects of the American and Russian revolutions and researched Roman and Byzantine art. I knew all about apple trees and how they got to Pennsylvania and Ohio, but at no time during the course of being educated had I heard the story of ʻUmi and His Royal Necklace. Most alarming was the fact that I was twenty-two years old, of half-Hawaiian ancestry, with four years of college tucked under my belt, and I did not know this story and many more stories that had come out of my environment and my hereditary past.
"I read more, listened more, searched more, and studied more. Then, I understood more and appreciated more the legacy that was always mine" (Marie McDonald, Ka Lei, page 23).
MELEANNA ALULI MEYER is a keiki o ka ʻāina from Mōkapu, Kailua—an ahupuaʻa of Koʻolaupoko, Oʻahu. Born and raised on the windward side of the island, the ocean and all things of nature were her constant inspiration. As a member of a large, community-minded ʻohana—committed to the lāhui in the areas of education, visual arts, culture, business, and all things creative—Meyer found her passion for the arts early in life through the guidance and support of her parents. Spirituality and lifelong learning are the hallmarks of her quest for understanding others and their cultural practices and values.
An honors graduate in visual arts from Stanford University, she also holds a master's degree in education from the University of Hawaiʻi at Mānoa. Meyer has been making art for more than fifty years. Classically trained, her wide-ranging creative interests have included theatre design, photography, filmmaking, murals, flower arranging, teaching, writing, painting, and printmaking. Belonging to Hālau Mele, under the direction of Kumu J. Keola Lake, has been a highlight of her learning about Hawaiian culture and language. She credits many other teachers—Eliot Eisner, Hale Makua, and her beloved Aunty Irmgard Aluli, to name a few—with guiding her along her life's path in the study of the arts and Hawaiian culture.
A "big idea" person with an insatiable curiosity for many things, Meyer has always been on the lookout for making connections between ideas, processes, and meaning-making. Much of Meyer's work in both art and teaching expresses the connections between spirit, art, and science. 
She is a mother of two and a tūtū of three.
ARTIST STATEMENT: As a visual storyteller, my body of work encompasses visual conversations and themes that also support ʻike Hawaiʻi, transformation, and healing. As an arts educator, cultivating identity and understanding of place are also critical building blocks for the youngsters I work with daily. Animating energies and ongoing research into how ideas coalesce and become meaningful instruments for change continue to inspire and challenge me in my creative and professional practice and life.
HARINANI KALOHELANI ORME credits story building as being central to both her life and work. Born and raised in Honolulu, Hawaiʻi, Harinani was adopted in infancy. "With my parents, I had four gifts," Orme says. "Two I was born to, and two I grew up with."
As an adult, Orme uncovered her original birth certificate and learned that she is part Hawaiian. This discovery confirmed a cultural resonance she had felt all her life, and compels her to learn all she can about ʻike Hawaiʻi.
She earned a bachelor of fine arts in printmaking at the University of Hawaiʻi at Mānoa and a master of fine arts from the Pratt Institute in New York. She works with various media and is primarily known as a printmaker and illustrator.
Orme's work combines strong narrative elements, unique composition, and a refreshing sense of playfulness. She infuses an expressive graphic dimension into the myths, legends, and traditions of Hawaiʻi.
In addition to her own creative pursuits, Orme teaches art to students of all ages in Hawaiʻi and on the continental United States. "One of my most important roles is being a mentor," Orme says. "I had a wonderful mentor, Dot Lewis, when I was in high school. Dot helped me get a scholarship to Idyllwild Arts, and we kept in touch for many years. I don't remember a time when I didn't do art—my mother had a cabinet in the kitchen where I kept all my art supplies, and I could take them out at any time, sit down, and start making stuff. But it was Dot and my mentors who helped shape me, and I love being a mentor to others."
ARTIST STATEMENT: I am a storyteller. I share tales of island people rooted in mythic events, both ancient and modern. My interests and heritage converge in Hawaiʻi. Through print, clay, metal, feather, stone, and found objects, I translate and re-present stories for our day. Whether cast on the side of a massive hotel tower, or constructed in a matchbox, my work offers discoveries and lessons, using both lyricism and scholarship. With this immersive practice, I strive to lead myself and others to a place of deep connection with Hawaiian culture.
CARL FRANKLIN KAʻAILĀʻAU PAO
CARL FRANKLIN KAʻAILĀʻAU PAO  was born and raised on the island of Oʻahu, and graduated from Kamehameha Schools in 1989. He earned a bachelor of fine arts degree at the University of Hawaiʻi at Mānoa in 1994, with an emphasis in ceramics, and received his master of fine arts with first-class honors in 1999 from the Elam School of Fine Arts at the University of Auckland, Aotearoa. He returned to Hawaiʻi in 2000 to take a position as a high school visual arts teacher at Kamehameha Schools–Kapālama. In 2018, he transferred to the KS Keaʻau campus on Hawaiʻi Island.
"As a kumu, I always want my haumāna, or students, to walk away feeling challenged and to think differently," Pao says. "I tell them we need to unlearn what we have been taught, but not to throw those things away."
Besides teaching full time, Pao continues to create his own art. Pao's work has a confident, graphic style and often utilizes traditional Hawaiian motifs—such as kiʻi, weapons, and kino lau—in bold, contemporary ways. Pao recalls, "From a very early age, I have always drawn triangles. I eventually found out that triangles in Kanaka ʻŌiwi visual design represent the teeth of a shark. The shark happens to be one of my ʻaumākua, or family guardians."
Carl lives with his wife and daughter in ʻŌlaʻa on Hawaiʻi Island.
ARTIST STATEMENT: Art is the way in which we, as humankind, express ourselves. True art has no prejudice, restrictions, or limits—only possibilities. It is my hope that my art will reflect the issues, materials, concepts, and ideas of our time. I hope the work I create inspires others to understand the cultures of their own and others—and to celebrate and promote our differences. I want to challenge what people consider contemporary Native Hawaiian art to be. Ultimately, I hope my art brings pono to our society and to our world.
ABIGAIL ROMANCHAK was drawn to printmaking during Introduction to Printmaking at the University of Hawaiʻi at Mānoa. "The beauty of printmaking is that there is always an element of mystery to it," she says. "You never know what your end product is going to be, and I found myself becoming addicted to that uncertainty of the final product. It's not an immediate process." 
After earning a bachelor and master of fine arts in printmaking from the University of Hawaʻi at Mānoa, she went on to teach and create art. She uses her art to "magnify and tell a story," she says. "There always seems to be a story behind my work."
She has been highlighting conservation work done on her home island of Maui and uses her artwork as a platform to engage viewers about larger issues. "I don't like to spoon-feed my viewers too much information; I like people to be drawn in and curious," Romanchak says.
Romanchak has participated in numerous solo and group exhibitions locally, nationally, and internationally. Her work belongs to many public and private collections, including the White House, Smithsonian, Hawaiʻi State Art Museum, Nature Conservancy of Hawaiʻi, Ritz Carlton, and Nordstrom.
She returned to Maui in 2007 to assist master printmaker Paul Mullowney of Hui Press, and raises her family there.
ARTIST STATEMENT: My prints are a way to empower and assert a Hawaiian sense of identity and culture through art. I believe that Native cultures are jeopardized once they stop speaking to people in the present. As an artist, I seek to perpetuate Hawaiian culture not through traditional means, but contemporary ones, so that it may endure for generations to come. My work reveals an essential alignment between multiple systems of marking and is greatly influenced by the human imprint on the natural environment. I am interested in exploring the boundaries between marking, claiming, and making the unseen and overlooked ultimately visible.
FEATURED ARTWORK
ON THE ARTFOLIO SLEEVE
ʻĀina Aloha is a two-sided mural created by Kahi Ching, Solomon Robert Nui Enos, Al Lagunero, Meleanna Aluli Meyer, Harinani Kalohelani Orme, and Carl Franklin Kaʻailāʻau Pao in 2015. One side of the 6' x 20' mural reflects Hoʻopono, which depicts ancestors as they build community through religion, voyaging, and other practices. The other side, Hewa, is an abstract painting of loss, pain, and struggle to find identity and peace. The mural is part of Meyer's larger film and touring project Kuʻu ʻĀina Aloha.
HAWAI'I BOOK & MUSIC FESTIVAL
Watch the panel discussion of Likoliko No'eau at Hawai'i Book & Music Festival. Kamehameha Publishing's Meredith Enos and project curator Meleanna Aluli Meyer discuss the collection with special guest panelists Al Lagunero and Noelle Kahanu, as well as what it means to them to be modern creators of visual moʻolelo.